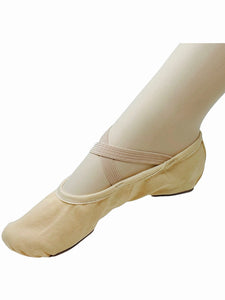 Stardom Canvas Ballet Shoe
Inventory Available
| | Ballerina Pink |
| --- | --- |
| 9 CHILD | 16 |
| 9.5 CHILD | 15 |
| 10 CHILD | 17 |
| 10.5 CHILD | 16 |
| 11 CHILD | 24 |
| 11.5 CHILD | 26 |
| 12 CHILD | 21 |
| 12.5 CHILD | 26 |
| 13 CHILD | 22 |
| 13.5 CHILD | 26 |
| 1 CHILD | 22 |
| 1.5 CHILD | 26 |
| 2 CHILD | 24 |
| 5 ADULT | 22 |
| 5.5 ADULT | 25 |
| 6 ADULT | 26 |
| 6.5 ADULT | 17 |
| 7 ADULT | 17 |
| 7.5 ADULT | 17 |
| 8 ADULT | 4 |
| 8.5 ADULT | 9 |
| 9 ADULT | 8 |
| 9.5 ADULT | 9 |
Please check the home page for the out-of-stock costumes ship date
A flexible and lightweight split sole Canvas Ballet Shoe. Featuring crisscrossed elastic straps and suede leather soles.
They come in Ballerina Pink colour to match our Stardom Ballerina Pink Transition Tights.
The canvas forms to the foot for a strong and precise point.
Offered in street shoe sizes with full & half sizes available. 

Youth Sizes 2.5-4.5 please convert to adult sizes.